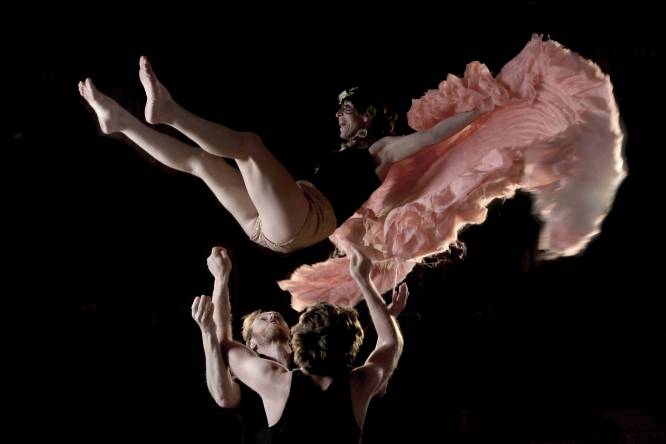 The Night Ball
2013
Choreographed by Liv Lorent and Dancers
Dancers: Gwen Berwick, Gavin Coward, Robby Graham, John Kendal, Meritxell Pan Cabo/ Natalie Trewinnard, Debbi Purtill, Mariusz Raczynski, Davie Rae, Caroline Reece, Juliet Thompson
DJ: Ben Ponton
Music Selection: Liv Lorent, Ben Ponton, Ben Crompton
Costume Design: Michele Clapton
Lighting Design: Malcolm Rippeth
Premiered: MEM, Wallsend
Toured: The UK and outside staging at Latitude Festival, Henham Park, Suffolk (Site-specific)
A revisiting of the concept of The Ball, this time made in Wallsend, but married with the underground and deconstructed feel of la nuit intime. Liv updated this work with costume designs from Michele Clapton and new wild and vulnerable dancing accompanying original scenes of ensemble ballroom. The Night Ball championed the liberty and freedom of dancing in public with the inhibition of dancing alone, as well as in couples, mixing up height and gender pairings to achieve the most unpredictable partners, making dance beautiful and deliberately very uncompetitive. Every performance ended with shared dancing between the audience and the dancers, the most epic scale example of this occurred when the company performed The Night Ball on the Lakeside Stage at Latitude Festival.
Art should not leave you out in the cold; it should open the door to a possibility of a fuller, richer life. For me this happened with a performance by balletLORENT.
Financial Times
While the night was about inclusivity, it has to be said that the core performance was brilliant.
Ben O'Connell, Northumberland Gazette
The Night Ball Gallery
Dancers: John Kendall & Gwen Berwick
Photo by Jane Hobson
The Night Ball Gallery
Dancers: Gwen Berwick & John Kendall
Photo by Jane Hobson
The Night Ball Gallery
Dancers: Debbi Purtill & Mariusz Raczynski
Photo by Ian West
The Night Ball Gallery
Dancers: Gwen Berwick & Gavin Coward
Photo by Ian West
The Night Ball Gallery
Dancers: Robby Graham, John Kendall, Gavin Coward, Mariusz Raczynski & Davie Rae
Photo by Jane Hobson
The Night Ball Gallery
Dancers: Robby Graham & Debbi Purtill
Photo by Jane Hobson
balletLORENT at Latitude Festival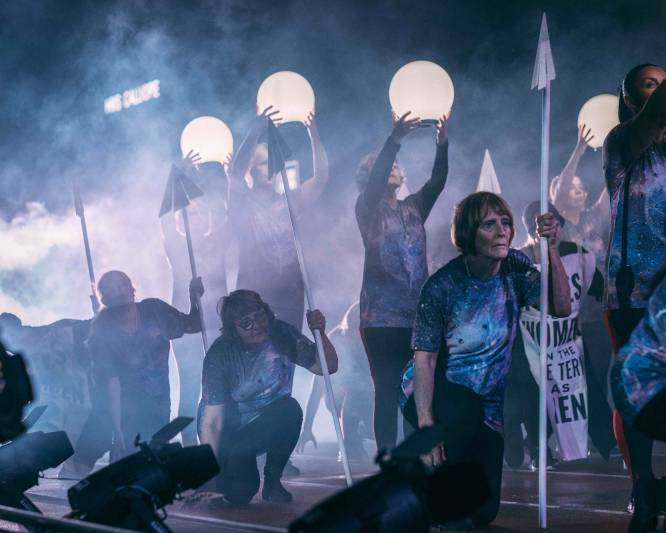 Great North Star
2018
Directed by Bradley Hemmings
Movement Design and Choreography by Liv Lorent and Dancers
Dancers: Gwen Berwick, Jennifer Chrisp, Gavin Coward, Toby Fitzgibbons, John Kendal, Jordaine Lincoln, Debbi Purtill, Caroline Reece, Virginia Scudeletti, Juliet Thompson, Natalie Trewinnard, Benedicta Valentina
Featuring a community cast of 91 women and 15 men from the North East, Lesley Garrett, Ibinabo Jack, Rise Unbroken, Grace Davies, Charlie Hardwick, Julie Hesmondhalgh, Jam'Sy Makuna Masengo, Ingrid Kristiansen, Katherine Switzer, Paula Radcliffe, Rosa Mota, Tanni Grey-Thompson, Newton's Ladder Aerial Dance Company: Mona McCarthy, Catherine Muckle
Written by: Louise Wallwein
Designed by: Rebecca Brower
Composer: Roma Yagnik
Video Design: Zsolt Balogh/New Visual Paradigm
Lighting Design: Phil Supple
Premiered: Baltic Quays, Newcastle
Streamed on BBC Online and featured on BBC1 during the coverage of the City Games.
Our biggest ensemble yet, performing on a 75 metre track, Liv and the dancers collaborated on this piece as part of the closing ceremony for The Great Exhibition of The North. A work about equality and the suffragette movement. The dance captains performed alongside the incredible volunteer cast.
Lady Tyne, she glimmered and smiled so proudly tonight as the stage lights lit her shimmering surface... A stage I was lucky enough to take to... to pour out my support and show my emotion for a cause of a time before me and in front of me... a memory tha
Bunny Whitehead, Community Volunteer Performer
Supported by The National Lottery Heritage Fund

We thank Friends of balletLORENT Julia Daynes, Maureen Newall, Joanne McKenna, Anna Story, and Karen Trewinnard; and Good Friends Heather Crompton, and Kate Lorent for their continued support of the company.