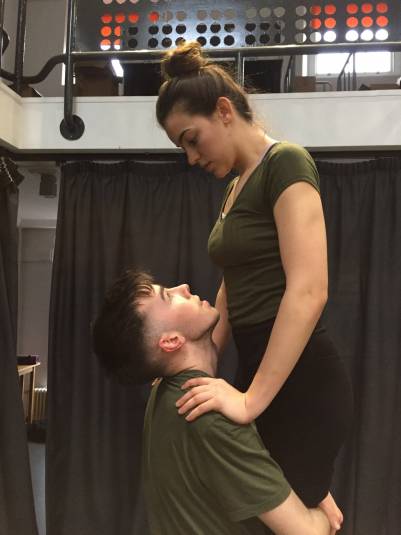 Colleges & Universities
We offer one-off workshops, masterclasses, longer residences and choreographic commissions based on balletLORENT repertoire to college and university students. Our unique style of dance theatre work is ideal for students from dance, theatre, music and other creative backgrounds.
Our work is typically delivered by two balletLORENT dance artists, bringing participants into direct contact with experienced professionals in the creative dance industry. Our pool of highly talented dancers have individual training and performance experience in such diverse and specific areas as contemporary dance, classical ballet, street dance, yoga and anatomy.
Experiencing such intimate connections and such a huge array of feelings through the different movement pieces we learnt had to be one of the most enjoyable parts for me.
Project A Residency Participant, Newcastle
Coming from someone who has no prior experience in the subject and had basically zero confidence I feel as though after this week I have at least somewhat skill in dance, this has given me a huge confidence boost and I feel as though I can safely audition for a job which has routines or choreographed work involved in it.
Project A Residency Participant, Newcastle
I fully enjoyed my week at work experience and I have learnt so much about the professional life of dance, it's not just about dancing itself but there's much more behind it.
Work Placement, Dance City Training Academy
Example Workshops
We can offer a limited number of work placement opportunities throughout the year in dance practice and arts administration for students studying arts based HE and FE programmes.
Example Workshops
Creative Workshops for Experienced Dance Students
Advocating the strong creative and collaborative approach embedded in the culture of balletLORENT, our experienced dance teachers will lead creative workshops which prepare the mind and body, and encourage a playful approach for participants exploring their own movement. Working on composition and choreographic skills, students will create dances in response to tasks, themes and movement ideas drawn from the balletLORENT repertoire. Students will also engage in discussion and evaluation sessions to enable constructive feedback on their work.
Contemporary Dance Technique Classes
balletLORENT dance teachers provide a technique class for professional students and dancers as a means of warm-up/preparation for the day, and to expand the dancer's enquiry into technical and performance skills. The classes will be indicative of the techniques utilised within balletLORENT own practices – a style with very strong roots which has evolved to serve the wide variety of performance work that the company undertakes.
For more information about the opportunities on offer for students, colleges and universities, email james@balletlorent.com or call 0191 233 1811
We thank Friends of balletLORENT Julia Daynes, Maureen Newall, Joanne McKenna, Anna Story, and Karen Trewinnard; and Good Friends Heather Crompton, and Kate Lorent for their continued support of the company.