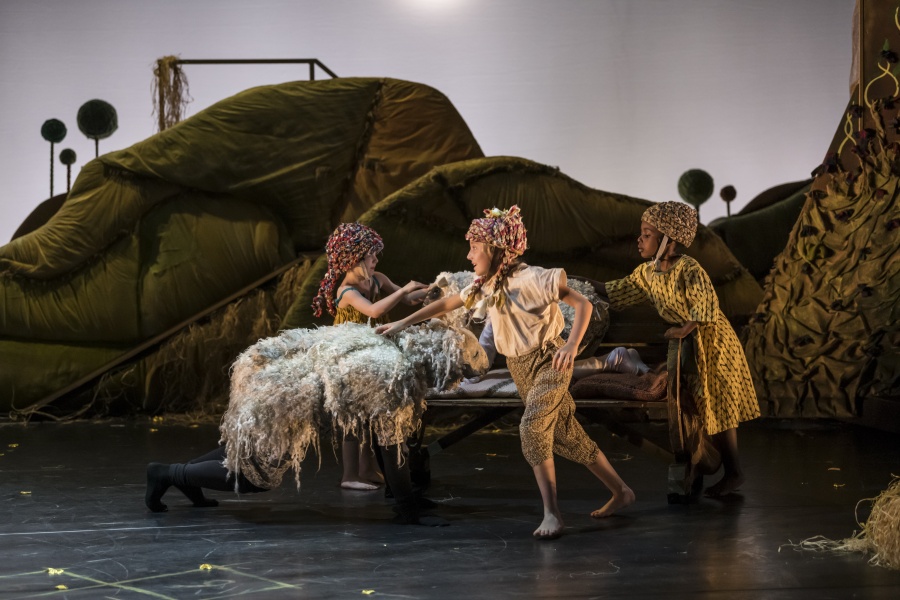 Community Casts
Throughout its 25 year history balletLORENT has frequently mixed dancers of various ages, backgrounds and dance training together. This reach and range has extended to us adopting into some shows performers with no dance or theatrical training at all, and us extending our performing dance family to include toddlers, primary school children, pregnant women and adults up to - and well beyond - retirement age. Depending on what story we are trying to tell we will extend an invitation to join us, with a particular focus on trying to reach people who have talent but little opportunity to join a professional dance company on stage.
It is impossible to count the number of individuals who have engaged with the company over the past 25 years, but through the fairytale trilogy of Rapunzel, Snow White and Rumpelstiltskin we have worked with over 4,500 children and adults aged 0-87yrs, and have seen over 500 of them perform on stages across the UK with our professional dancers.
In Newcastle, balletLORENT works in partnership with local primary schools during the research and development of our fairytale productions, delivering creative dance workshops in school before inviting several children to out of school sessions and rehearsals. The invited children then form part of the community cast for our productions, informing and developing the vocabulary and movement in collaboration with our professional dancers.
For Rumpelstiltskin, the company also incorporated adults aged 65+ from the local communities that we toured to. In Newcastle, we delivered workshops in community centres, day and residential care centres, and to knitting groups across the city to find the cast for our performances at Northern Stage.
In each town and city that we tour to, we engage a local community cast, recruited through workshops in schools and community centres. These participants join the company in rehearsals before performing alongside our professional cast.
To truly see the magnitude of the community casts we work with head over to our Archive.
We will post any new community cast opportunities in our News section.
Archive
"Having community cast on stage made the performance relatable even though it was fantastic!" Faith Johnson, Audience Member, Northern Stage
Community Cast Gallery
Our intergenerational cast for Rumpelstiltskin in Aberdeen 2018
Community Cast Gallery
Some of our young cast with Gavin Coward for Rumpelstiltskin in Darlington 2018
Community Cast Gallery
The young cast for Rapunzel in Edinburgh 2012
Community Cast Gallery
Our older cast for Rumpelstiltskin in Huddersfield 2018
Community Cast Gallery
Our young cast for Rumpelstiltskin in Inverness 2018
Community Cast Gallery
The community cast with Kelly Wilson in MaEternal 2008
Photo by Bill Cooper
Community Cast Gallery
Some of the community cast for Rumpelstiltskin in Newcastle 2017
Photo by Iolo Penri
Community Cast Gallery
The young cast with Gavin Coward for Rumpelstiltskin in Newcastle 2017
Photo by Iolo Penri
Community Cast Gallery
The community cast for PassAge to Passion 1996
Photo by Aiden Kelly
Community Cast Gallery
The cast for Rumpelstiltskin in Newcastle 2017
Photo by Iolo Penri
Community Cast Gallery
Community cast with professional ensemble in Rapunzel 2012
Community Cast Gallery
Our young cast for Rumpelstiltskin in Oxford 2018
Community Cast Gallery
Our young cast for Rumpelstiltskin in Pitlochry 2018
Community Cast Gallery
Some of our older cast for Rumpelstiltskin at Sadler's Wells in London 2018
Community Cast Gallery
Our young cast for Snow White at Pitlochry 2016
Community Cast Gallery
Our young cast for Snow White in Oxford 2016
Community Cast Gallery
Our young cast with Gavin Coward for Snow White in Oxford 2016
Community Cast Gallery
Our young cast with Gavin Coward for Snow White in Oxford
Community Cast Gallery
Our young cast with Natalie Trewinnard for Snow White in Oxford 2016
Community Cast Gallery
Our young cast with the professional ensemble for Snow White at Sadler's Well, London 2016
Community Cast Gallery
Some of the community cast for Strange Glitter 2000
Community Cast Gallery
Our cast for Great North Star 2018
Photo by Luke Waddington
Community Cast Gallery
Our cast for Great North Star 2018
Photo by Luke Waddington
Georgina Wells, British Theatre Guide
"One thing that sets this production apart is its inter-generational cast, which includes local schoolchildren and senior members of the community alongside the professional dancers. Crucially, they aren't just extras, added in to scenes as an afterthought, but an integral part of the cast—whether dancing, knitting or playing part of the Shepherd's flock. This creates a genuine feeling of inclusivity, which adds further to Rumpelstiltskin's heart-warming magic."